As we head into Canadian Thanksgiving I wanted to share a recipe for an appetizer that is delicious and as simple as it gets. If you are like me, you will be spending a lot of your time this weekend cooking, so having something that's easy to put together and tastes great for people to snack on as they wait is a must.
I've had sage on my mind a lot lately. My daughter asked me about what she can do with all the sage that is growing in her garden besides using it in poultry stuffing. Sage is a bit tricky to use because it has such a distinctive taste, almost woodsy and while I love it, I don't actually use it all the time. But that doesn't mean it doesn't have so many great uses. Firstly, in stuffing, that is a must. Fresh or dried it's what makes stuffing delicious. I also love using it in bouquets - the leaves fall so beautifully and anyone sitting at the table with a centrepiece of some sage will smell the wisp in the air. I like using a leaf on a place setting, so simple and different. This is something I will be doing to decorate the table this weekend.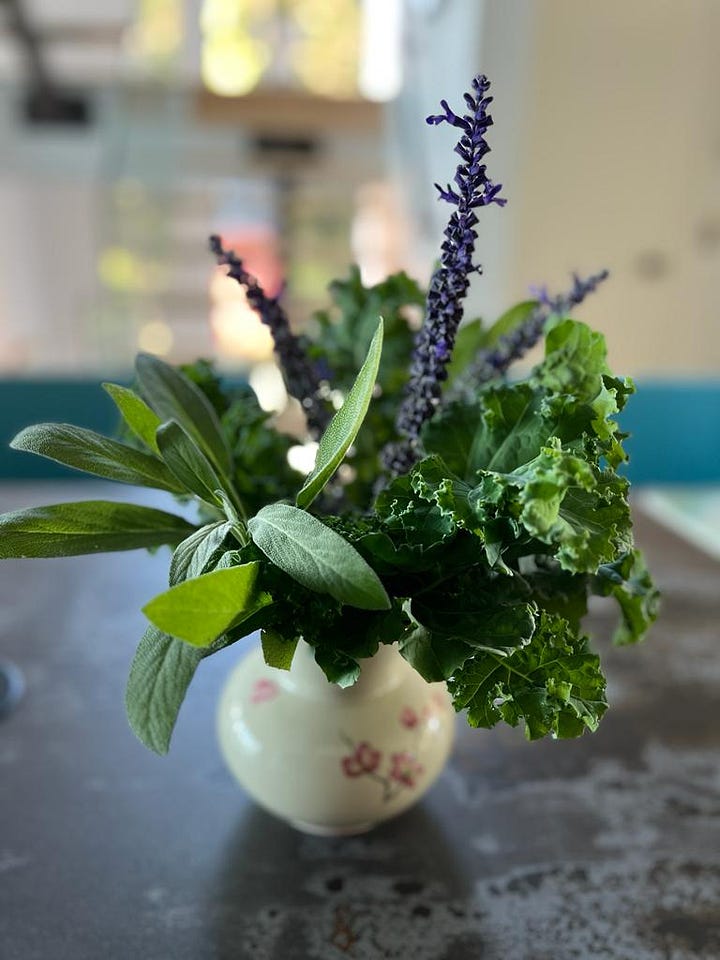 In this recipe, I am using sage as a garnish, lightly coated with flour and quickly fried in olive oil. Then topped on a roasted garlic crostini - so tasty.
I roast a large batch garlic in the fall when the garlic is perfect and then freeze in small containers. A little goes a long way. Dollop mashed up roasted garlic on top of minestrone or tuscan bean soup, spread on crackers, add to cooked pasta, add to sour cream or butter to top potatoes. The list goes on of wonderful uses of roasted garlic. It freezes well so after you make it up, keep some in the refrigerator in a glass jar and put the rest in small containers in the freezer so you can easily defrost and not have too much left over. Always keep it refrigerated to prevent spoiling. 
You can make this in a single serving or use a few bulbs to make up a batch. Either way - use a container just big enough to hold the bulbs so they will not roll around. 
Keep reading with a 7-day free trial
Subscribe to South Pond Home by Danielle French to keep reading this post and get 7 days of free access to the full post archives.